Name of the event: Rwanda UPSCALE 4th MAC Management Meeting
Date: The meeting took place on 16th to 17th of March
Venue: The meeting was organized by Food for the Hungry (FH) Association Rwanda. It was held in Kigali and at the field where push pull is being implemented.
The meeting brought together different agriculture value chain practitioners ranging from government institutions, Research, agriculture universities and  farmers ( implementers) of push-pull technology. The meeting was was attended by 17 MAC Members out of invited 22 members.
Main objective of the meeting:
The event was organized by Food for the Hungry in Partnership with Rwanda Agriculture Board, The overall objective of this event was  to asses how  push-pull farmers both existing and new adopters conform  with  season preparation and planting  and look at the challenges they are encountering during this time. The MAC committee members interacted with push-pull farmers, listening to their concerns related to shortage of seeds and seedlings, growing only maize etc and farmers  received sort of advices of how they can continue rotate their crops while maintaining push-pull practices.
Joseph Gafaranga – Imbaraga farmer federation showing farmers how they can take care of push-pull garden while maintaining desmodium for next seasons.
Senzoga Jean Batiste showing farmers and MAC committees how to cut the desmodium splits for propagation.
Senzoga Jean Batiste is a model farmer in Nygaiuhanga sector and practices push-pull technology in his farm and is showing his fellow farmers and MAC comittees how you cut desmodium for propagation.
Senzoga togather with his group have been a source of desmodium seedlings to those who are joining the technology  but also teaching them how to plant the seedlings and maintain the farm.
From his testimony, desmodium plants has multiple benefits ranging from pest management, climate resilience and  livestock fodder. For livestock, desmodium  multiplies the milk production to five times.
Musengimana a Push-pull model farmer showing where the group will extend the push-pull to.
Musengamana Jean Marie Vianney is the leader of a group of 16 people, where we have 8 women and 8 men and we have now joined Push-Pull to reduce the use of pesticides in our fields.
"This is the farm where we started, but we have the intention of increasing the area of production and become the source of desmodium seeds for the groups members but also for others who will join the technology later alone." he says.
Civil society organisations have pledged to start teaching farmers the benefits of push pull and have taken some desmodium splits to start some demonstration plots with some of their model farmers.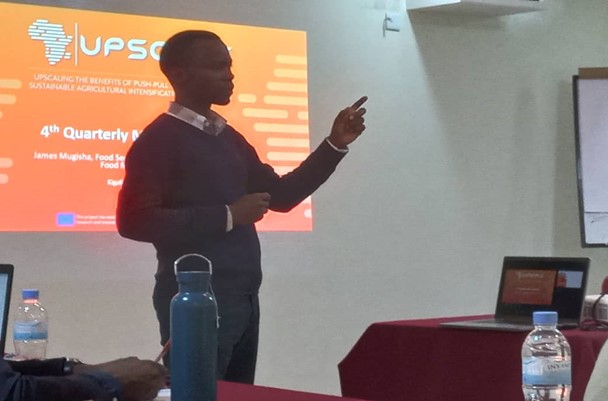 MAC meeting is one of the approaches UPSCALE uses to ensure the transdisciplinary, Inclusivity, and Co-design/co-creation for the Multi Actor Communities.  MAC meeting bring together different stakeholders in agriculture value chain  to promote awareness and adoption to many farmers for climate resilience but also environmental protection to sustain the
livelihoods and food security. Since its formation in July 2021, the MAC Management committee has contributed a lot in exchanging information, organizing and expanding UPSCALE activities, promoting Push-Pull technology and other agroecology practices. We now have many partners contributing to promoting the adoption of Push-Pull in one way or another; some are supporting the farmer in different parts of the countries with extensions services on Push-Pull, others are availing needed inputs for establishing the Push-Pull. We have now, reached to over 400 farmers adopting this technology given the road show campaign that took place November 10th 2022 that attracted close to 500 farmers.
·       Future activities, recommendations from MAC committee and Closing statement
The event concluded that the UPSCALE partners would continue to research and disseminate information and skills on various agroecological techniques, especially Push-Pull technology among partners and other key stakeholders. The project will seek to increase the number of project beneficiaries (extension), both individuals and cooperatives adopting the Push-Pull, focusing on the training of farmers on both effective agricultural production and post handling practices and will seek to link up with other complementary projects and create a partnership with other key stakeholders such as financial
institutions, insurance companies, and Agro inputs suppliers to increase the benefits the farmers get out of Push-Pull technology.
MAC committees have recommended that to increase more adoption of technology to many areas of the country to provide evidence based results and have further said that RAB and University of Rwanda (Germain and Jean-Pierre) the MAC members commit to put evidence based trials and compare results in terms of yield and other associated benefits like biomass of fodder.
These results together with testimonials from other farmers will confidently help the MAC to disseminate this information to as many people a cross the country as possible.
MAC further recommended that university of Rwanda would encourage students to do research on push-pull technology.