Name of the event: Rwanda Rwanda third UPSCALE National MAC Meeting
Date: The meeting took place from 25th to 26th May 2023.
Venue: The meeting was organized by Food for the Hungry (FH) Association Rwanda and RAB. It was held at the Grand legacy Hotel in Kigali, Rwanda.
The meeting brought togather different agriculture value chain players ranging from farmers( producers) to  policy makers ( Ministry of agriculture and Rwanda Agriculture Board). The meeting was attended by 30 people from Rwanda MAC members, Maseno University as lead of WP1 and other high level proffesionals. The 3rd National MAC Meeting was officially opened and closed by Director General, Rwanda Agriculture and Animal Resources Board( RAB).
Main objective of the meeting
The event was organized by Food for the Hungry in Partnership with Rwanda Agricultuere Board, The overall objective of this event was to promote the benefits of Push-Pull , Exchange ideas and other agroecological practices, share the UPSCALE Project updates, challenges and find solutions togather,  monitor the progress and plan for the UPSCALE project up coming activities. All this, aimed to increase awareness and adoption of push-pull technology to the wider farming communities of Rwanda.
Rwanda Third  National MAC Meeting had two sections, the first section was in-person meeting, where presentations and discusions were held. Food for the Hungry, presented on behalf of Rwanda MACs, the presentation encompassed of achievements, on-going activities and recommendations from Rwanda MAC.
Maseno University presented and through group discussion that was facilitated by Dr. Fredrick Aila and Prof. George Odhiambo we looked at desmodium seed mapping tool. The partcipants had group exercise of seed mapping trying to connect the seed value chains as way to find solutions through connecting farmers with seed merchants.
The second section was the field visit to the push-pull sites in Gatsibo District, the MAC members visited push-pull field sites to see the progress of technology adoption, Execution of recommendations from previous visits and some of the challenges.
In regard to previous recommendation from MAC, farmers were argued not to look at push-pull technology as technology for maize so that farmers are not confined to maize growing only. Farmers were happy with this encouraging recommendation as they knew that push-pull goes with maize, many farmers embraced this and pledged to keep push-pull field while rotating with other crops.
From the result of recommendation, the farmers have started growing push-pull with other crops like Climbing beans and even tomatoes where farmers said push-pull is an enemy of black aphid that attacks beans.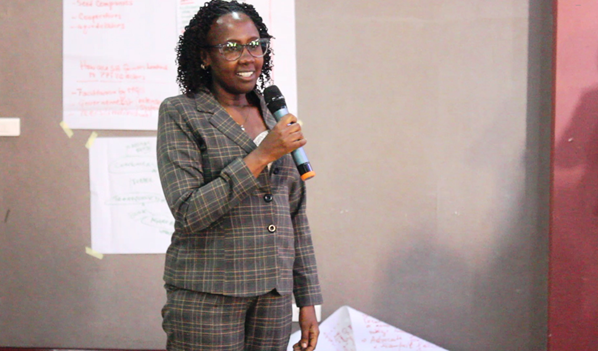 Welcome remarks from FH Rwanda country Director
In her statement, while welcoming the partcipants, she promised the partcipants and MAC members that FH will continue being a collaborative partner to upscale the benefits of this technology to many farmers in the communities.
She added, this technology provides holistic benefits to farmers not only for food security but also on environmental protection, water conservation as climate resilient techniques for continuous sustainable agriculture production.
She concluded by requesting the civil society organisations, other participants involved in agriculture to disseminate this technology to their farmer beneficiaries as wide as possible. This will increase awareness of this technology to other farmers and will enhance quicker adoption. She encouraged the participants to feel at home and be interactive to the discussions.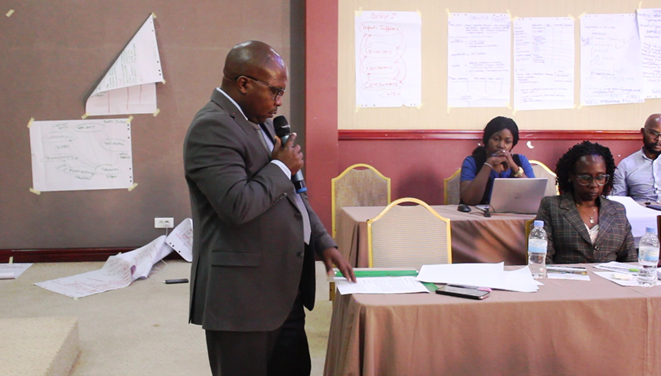 While addressing the event Dr. Telesphore, Director General of RAB, expressed his gratitude to the project leaders who thought about Rwanda and selected it to host this technology. He emphasized on the significance of push-pull technology and recommended its inclusion as an intergral part of the extension package for crops, livestock, soil and water conservation.
Dr. Telesphore, concluded the meeting by arguing all the the participants to engage in impactful deliberations and uphold collaborative efforts from all stakeholders in agriculture sector including the policy makers.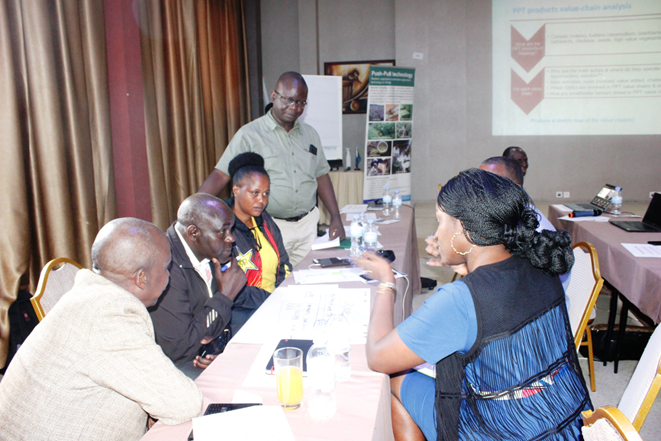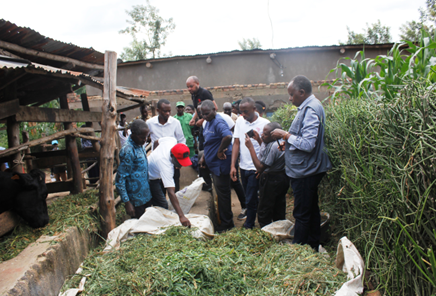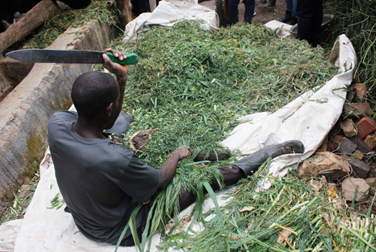 Senzoga Jean Batiste and his PPT farmer group making bracharia and desmodium fodder for their cows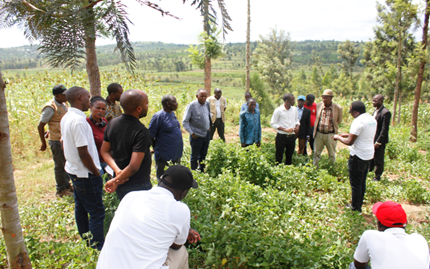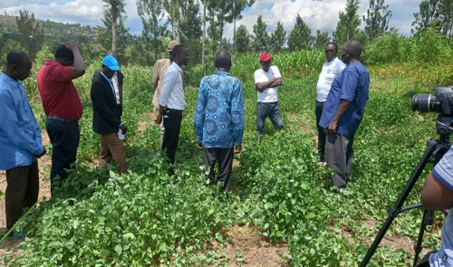 A group of push-pull farmers showing the MAC where they multiplied the desmodium seeds, prof Odhiambo and Germain from RAB advising them to be picking the seeds and keep them for replanting after some time.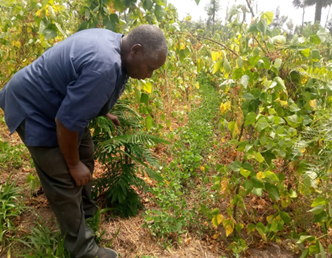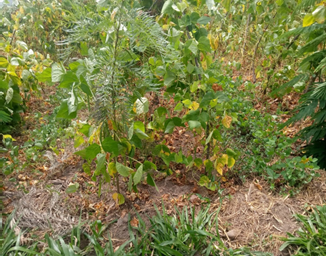 Push-pull  with climbing beans, farmers confirmed that with push-pull the black aphids of beans have reduced.
MAC meeting is one of the approaches UPSCALE uses to ensure the transdisciplinarity, Inclusivity, and Co-design/co-creation for the Multi Actor Communities. MAC meeting brings togather different stakeholders in agriculture value chain  to promote awareness and adoption to many farmers for climate resilience but also environmental protection to sustain the livelihoods and food security.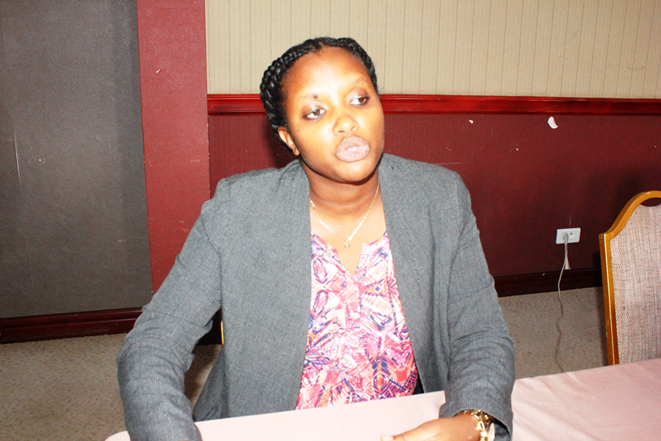 Since its formation in July 2021, the MAC has contributed a lot in exchanging information, organizing and expanding UPSCALE activities, promoting Push-Pull technology and other agroecology practices. Currently, we have many partners contributing to promoting the adoption of Push-Pull in one way or another; some are supporting the farmer in different parts of the countries with extensions services on Push-Pull , others are availing needed inputs for establishing the Push-Pull. The relevant stakeholders are still being integrated to fulfill the  mandate of MAC.
Currently, over 400 farmers have adopted this technology from 280 farmers last year following the the road show campaign that took place in November 10th 2022 that attracted about 500 farmers.
Future planed activities.
The event concluded that the UPSCALE partners would continue to research and disseminate information and skills on various agroecological techniques, especially Push-Pull technology among partners and other key stakeholders. The project will seek to increase the project stakeholders to increase awareness and adoption to extend the benefits of push-pull to as to many farmers as possible.