UPSCALE partner, Jomo Kenyatta University of Agriculture and Technology (JKUAT) held focus group discussions with farmers from Kisumu, Siaya and Vihiga counties on 24 to 28 May 2021. Focus group discussion is part of the needs assessment research being carried out to determine sustainable intensification practices that farmers would want to be integrated into push-pull systems in Kisumu, Siaya, and Vihiga. Farmers expressed strong interest and willingness to UPSCALE the benefits of push-pull in the area.
Farmers in western Kenya want to UPSCALE the benefits of push-pull technology
Eighty five (85) farmers turned up to participate in Focus Group Discussions to help researchers identify the most suitable sustainable intensification practices for integrating in push-pull systems in Kisumu, Vihiga, and Siaya. A total of 90 farmers had been invited from the three counties. Ten focus group discussions comprising of nine groups of farmers and one group of field technicians were conducted. Focus group discussions were held in groups of 7 to 12 women or men, ensuring about 50% gender representation. Meetings took place at homes of lead farmers in the following villages; Ebusatsi, Emakunda, and Mwikusi village in Vihiga; Kosio, Marera, and Yenga village in Kisumu; and Ng'ayo, Komonge, and Ndira B village in Siaya. The meeting for field assistants was held at Trinity Fellowship Guest House, Maseno in Vihiga. In each group, five farmers who previously practiced push-pull and five farmers who do not practice push-pull were selected based on the recommendation by lead farmers or community leaders or field assistants who perceived them (farmers) to have sufficient knowledge and experience on issues to be addressed and would discuss them freely. Field assistants were selected based on their role in the implementation of push-pull or other sustainable intensification practices (e.g. agroforestry, organic farming, etc.) or because of special information they possessed based on their involvement in agriculture in the region.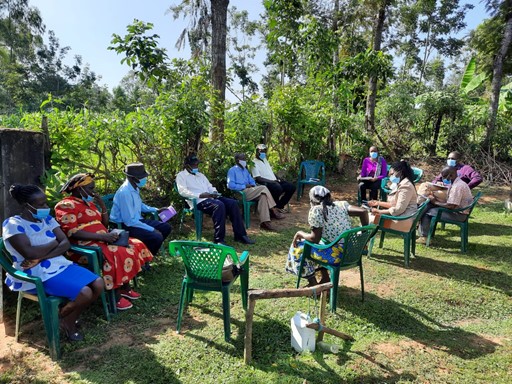 Characterizing farming systems
To characterize existing farming systems, farmers were asked to give information relating to the types of crops commonly grown in their area, reasons for growing these crops, how these crops are planted and strategies that farmers employ to sustainably increase crop yield. Farmers were also asked to give information about agroforestry and other sustainable intensification options that have potential in the region, benefits of such sustainable intensification practices, and key challenges to the adoption of a sustainable intensification approach in the region.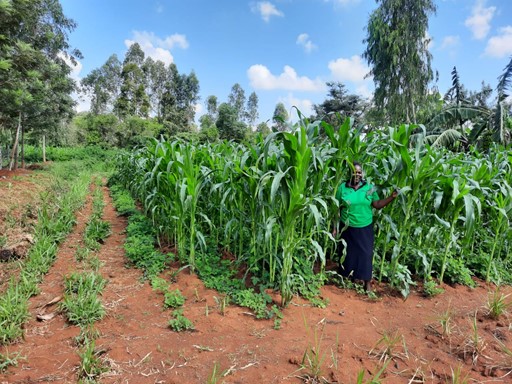 Sustainable intensification
Farmers were asked to give their views about push-pull, including the benefits and drawbacks of the push-pull system as currently implemented. Farmers were then asked about sustainable intensification approaches that are compatible with push-pull, the potential of integrating sustainable intensification approaches with push-pull, benefits that farmers would derive from such integration, and possible challenges to implementation/adoption. Lastly, we collected information regarding sources of information/training on implementation of sustainable intensification practices, challenges with access to information, and actors that should be brought on board to ensure successful integration of other sustainable intensification into push-pull.
What are the next steps
The discussion with farmers provided valuable information about farming systems in Kisumu, Siaya, and Vihiga. Researchers are analyzing this information in order to decide on the most suitable sustainable intensification practice to include in push-pull.
Farmers unanimously supported the quest to UPSCALE the benefits of push-pull in the region. They have already enjoyed benefits associated with improved soil fertility and control of striga, stemborer, and fall armyworm; crop yield has improved, income has increased and diets have been diversified; women have been empowered and the capacity of smallholder farmers built.
In July/August, researchers will go back to farmers to share findings of the focus group discussions and to select experimental sites for the establishment of trials to test the effectiveness of selected sustainable intensification practices.